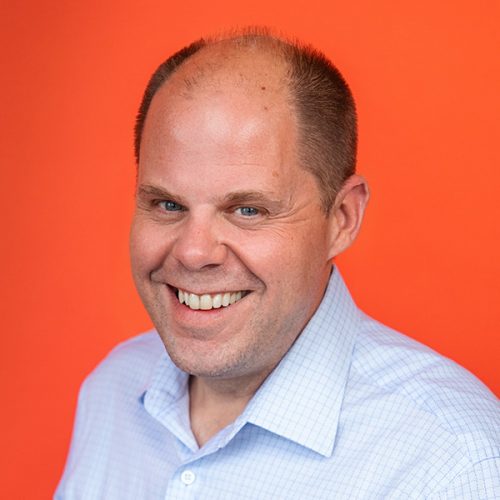 Hailing from Topeka, Nathan attended the University of Kansas, where he began his lifelong affinity for letterforms and graphic design. A quick study at reverse-engineering of undocumented printing methods, he began creating fonts from historic samples in 1995 and established his own type foundry, Baseline Fonts, in 1999.
Nathan has spent almost two decades as a hybrid designer, constantly evolving alongside technology and industry shifts. He founded Baseline Creative in 2005 and has grown it into a full-service agency. He finds inspiration everywhere and in everyone but especially in a good cup of coffee.
On the home front, Nathan is an avid baker and enjoys printmaking and painting. He has three brilliant daughters, an amazingly effervescent wife, a Golden Retriever named Betty, a Kansas Humane Society rescue named JoJo, and a menagerie of cats—acquired by his wife and daughters. His favorite, over all, is orange.
Bridgette brings to Baseline more than a decade of brand management, strategic planning and public relations experience in health care, non-profit, higher education and the corporate world. Her volunteer work speaks to her core values, and social justice.
Bridgette puts her masters of business law, and bachelor's degree in public relations and political science, to good use by implementing procedures and protocols that help Baseline operate more efficiently. She thinks five—if not 10—steps ahead at all times.
Bridgette has an innate business sense that allows her to manage the more pragmatic side of a creative firm. She helps coach staff members and keeps them on task—all with a smile on her face. She helps shape our team as the hiring manager, and applicants will earn some unofficial bonus points if they've read this far and understand who to reach out to about opportunities with Baseline.
She identifies as a bona fide crazy cat lady. It all started with the late Burt Reynolds and his littermate Frida Kahlo, brown tabby and Lynx Point Siamese respectively, and now includes Schwarz the orange tabby and Phoenix the tiny tuxey. Her canine companions, Betty White the Golden Retriever, and JoJo effervescent American Shelter Dog round out her fur squad.
Andrea is a graduate of Wichita State University and spent a career in public relations in the non-profit sector before coming to Baseline. Andrea is an experienced strategist, event planner, crisis communicator and writer.
Andrea is the Agency Director for Baseline Creative and oversees staff and strategic direction for clients. In her multi-faceted role, Andrea is committed to continuing the culture of collaboration at Baseline and being a cheerleader for team members. Andrea also enjoys building relationships with clients, and working with them to evaluate the bigger picture and work toward goals.
Andrea loves spending time with her family including her husband and two nearly grown children and their rescue dog, a Beagle/Basset mix named Maggie.
Ben is the driving force behind all of Baseline Creative's websites. Armed with a degree in computer science from Bethel College, Ben is an authority on all things related to databases, code and innumerable scripting languages. The Newton native has been the lead developer at Baseline Creative since 2007 and is known for being incredibly intuitive and patient with both clients and the Baseline team.
As the Web & Technology Director, Ben oversees the development team, ensuring adherence to best practices in web and application development. Ben is also the lead on PetBridge, an animal shelter software developed by Baseline.
Ben has diverse musical interests ranging from ska to his favorite jazz musician, Don Ellis. He's always keeping the office guessing musically. He also loves BBQ, good science fiction and comic books.
Ben enjoys lounging with his wife, Anna and their two children—who keep the adults very busy.
Brittany was born and raised in Wichita, Kansas. Taking the next steps in her career in web and software development with Baseline Creative, Brittany has always been intrigued with the way technology advances and fell in love with frontend web development when taking courses. She loves celebrating the small successes when problem-solving for a difficult task. Brittany's organized and process-oriented way of thinking makes her the perfect Technology Project Manager in which she sets milestones and tracks progress on web and application projects. In her free time Brittany enjoys spending time with her friends and family including two fun and beautiful daughters with awesome little personalities.
Running is her getaway and she has participated and completed various races ranging from 5k to half marathon—and is aiming to complete a full marathon. Brittany enjoys coffee and reading Inspirational and educational books with the occasional novel to balance things out. She also enjoys sports including football, basketball and boxing as well as the occasional scary or action movie.
Nicole is the Digital Services Specialist at Baseline. Nicole has worked in web development as a hobby for 20 years, and as a career for the past 10 years. She is excited about all things marketing and loves that she can apply her attention to detail and thirst for knowledge in so many ways. From web development to UX/UI, digital and print graphic design, and account service, Nicole loves the variety that marketing and her position at Baseline brings.
In her spare time, Nicole enjoys several hobbies including gardening in her own "secret garden" of decorative trees and flowers, multiple fruit trees, and a vegetable garden. She's also a freelance photographer and likes all genres of music, dancing, and singing. She appreciates eclectic styles, historical architecture, and antiques. Nicole lived in Okinawa, Japan for five years and is passionate about learning about other cultures, languages, and traveling.
Nicole has five amazing kids ranging from college-age to elementary school. Like most on the Baseline team, Nicole has a pet — a Borkie (Bichon/Yorkie mix) named Wilhelmina who is like a teddy bear.
Jessica is a current college student from Haysville, Kansas. She is a Visual Communications and Spanish major at Friends University. While graphic design is her concentration, she enjoys music, art, dogs, shoes, and cars. Jessica has a strong skill set and a wide array of experience.
Jessica is our Creative Services Specialist who is working on social media graphics and print pieces. Additionally, Jessica helps with web design for Baseline, as well as marketing strategy. If we go viral on Tiktok, thank Jessica! She is passionate about the change graphic design can make within its message. Jessica says that graphic design is everywhere, and it can spark change in a grandiose way.
She looks forward to mentoring the next generations of creatives to achieve their goals and is passionate about helping to eliminate the negative stigma surrounding immigrants and immigrant families. She hopes to change the narrative of minorities in her future career and uplift them in a positive light through graphic design.
During her free time, Jessica likes to spend time outdoors. Her favorite activity is jumping on her trampoline with her two shorty bullies: Coco and Cookie.